Golden United Business Assistance Webinar Series
Golden United produced a two-part webinar series designed to provide information about COVID-19 resources and assistance available to Golden businesses. Part one covered Legal & Financial Issues Related to COVID-19. Part two focused on Positioning Your Business for Success in a New Business Environment. To view recordings of both webinars, visit the Golden United YouTube channel.
Virtually Golden: A Lunch and Learn Series
Golden United launched Virtually Golden in late March 2020 as an effort to bring together the Golden Community despite COVID-19 social distancing efforts and the state-wide Stay at Home order. Goldenites gathered via Zoom to learn about Golden history, culture, and local talent. The Virtually Golden series ran twice a week from March 24 to May 5th, 2020. Click here to view the schedule and speakers.
All Virtually Golden recordings are available for viewing on the Golden United YouTube Channel. Previous recordings include:
March 24th, Barb Warden, Golden History Part 1 of 4
March 26th, Paul Haseman, Golden – the Stolen Capital of Colorado
March 31st, Barb Warden, Golden History Part 2 of 4
April 2nd, Paul Haseman, Charles Welch and the Welch Ditch
April 7th, Barb Warden, Golden History Part 3 of 4
April 9th, Tyson Noeth, BGoldN Fund & the Golden Backpack Program
April 14th, Barb Warden, Golden History Part 4 of 4
April 16th, Donna Anderson, The 1889 White Ash Mine Disaster in Golden
April 21st, Frank Blaha, The Great Influenza Pandemic of 1918
April 23rd, Jim Ranville, Recreational Impacts on Clear Creek Water Chemistry
April 28th, Donna Anderson, How Geology Shapes the Golden Landscape
April 30th, Stacy Fowler, A Video Tour of Golden
May 5th, Bill Robie and Paul Haseman, Golden Railroads
Ward 4 Golden City Council Candidate Virtual Forum – 4/7/2020
If you missed the Ward 4 Golden City Council Virtual Forum on April 7th presented by Golden United and Leadership Golden, you can view the recording here.
Candidate Town Hall – 10/1/19
Thank you to the five candidates for mayor and city council and the 90+ members of the community who joined us for the highly interactive and informative town hall.  This event featured residents asking questions to the candidates, Golden United questions, and a novel "Candidating" activity where they candidates moved from table to table for dialogue with participants.  Check out the video here. 
Educational Event on Planning + Zoning – 5/7/19 + Visioning the Future of Golden – 6/4/19
Thank you to our speakers for imparting their planning and zoning knowledge in less than two hours on May 7. Special thanks to City of Golden and Foothills Art Center for partnering on the June 4 community discussion. Learn more more here.
2nd Annual Flavors of Golden – 12/2/18
Thanks to all for celebrating our caring community. Our second annual event was a success. Read more here.
Golden Housing Forum – 6/21/18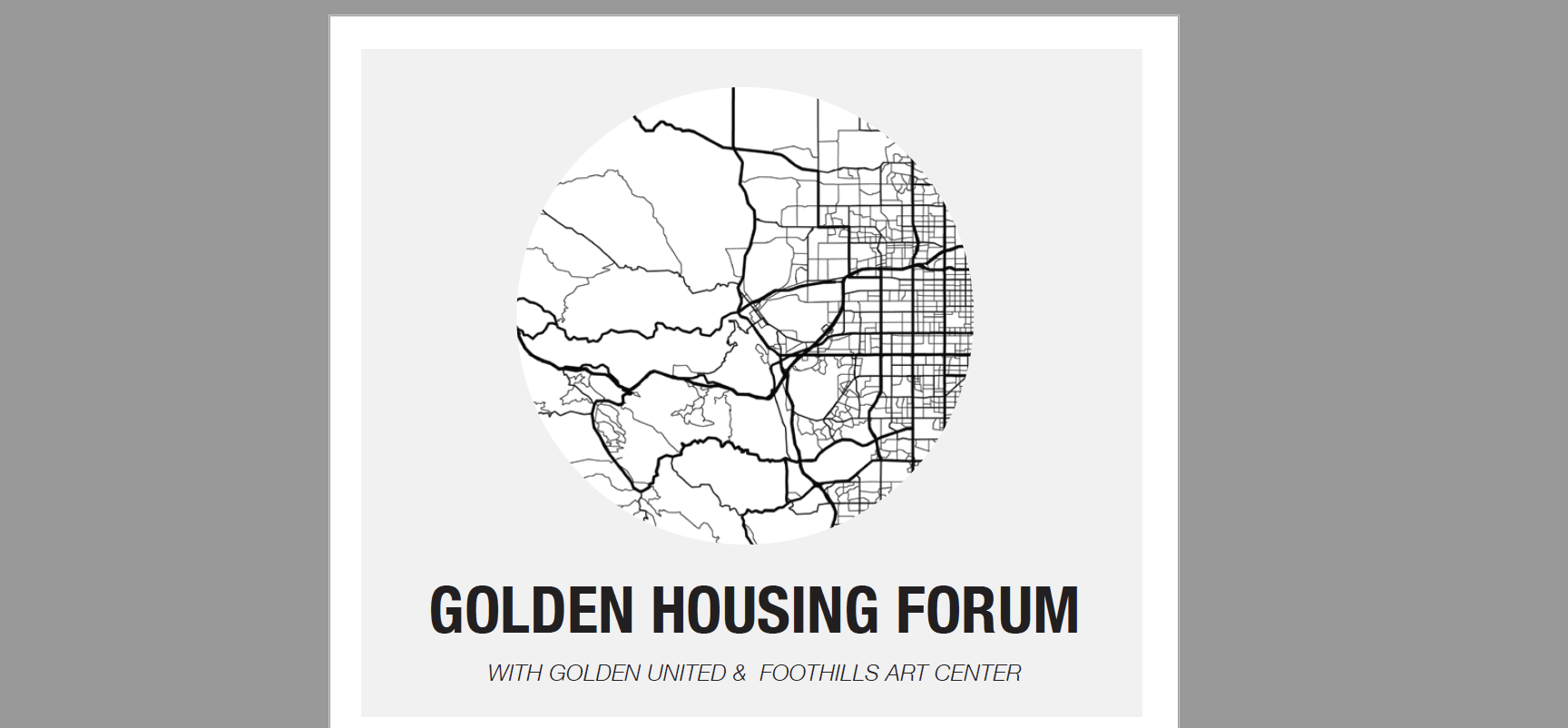 Thanks to Foothills Art Center, Bob's Atomic Burgers, Safeway, and Golden City Brewery, on June 21, more than 70 people gathered to discuss Affordable Housing and Golden's Character. Read more here.
FIRST MONDAYs COMMUNITY DISCUSSION – 5/7/18
On May 7th, Golden United convened a dialogue on campaign finance reform issues.  Alex and Arias, informed local residents from WolfPAC, provided an overview of the need for campaign finance reform and the state of play with initiatives in Colorado to address this issue.  The group of around 20 participants discussed problems with the current system where there is a lack of transparency on sources of funding, especially from some deep pocketed donors and groups.  Possible solutions were also highlighted.
FIRST MONDAYs COMMUNITY DISCUSSION – 4/2/18
Emilie Mitcham spoke to us about Civility.
April, 2 2018 Learn more…
FIRST MONDAYs COMMUNITY DISCUSSION – 3/5/18
Steve Jensen taught us about rule of law, personal responsibility and talked about gun violence and school safety.
February 5, 2018 Learn more…
FIRST MONDAYs COMMUNITY DISCUSSION – 2/5/18
Dialogue on American Values and How Values Guide our Views
Flavors of Golden

November 5, 2017  Learn more….
Rally for Unity in Golden
August 22, 2017